Cancun Luxury Yacht Charters FAQ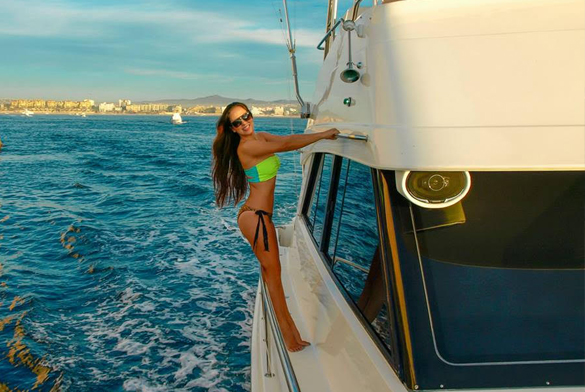 When you are looking for the very best in chartered yachts look no further than Luxury Yachts Cancun Charters. With a vast array of boats and yachts, including fishing boats, speed boats, sailboats, luxury motor yachts, mega yachts and even Catamarans, Yachts Cancun is sure to fulfill your every need. While we specialize in vacation charters, corporate and private chartered yachts are offered as well.
Whether you are looking to get away from it all and enjoy a peaceful and relaxing escape. Or sharing a romantic dinner for two under the moonlit sky. There is something here for everyone. We even offer catering of some of the most delectable and mouthwatering dishes in the world for you to choose from. As well as world-class sport fishing and various water-sport activities. With extraordinary service that is second to none, you are sure to be enchanted.
If you are ready to indulge in everything that Luxury Yachts Cancun Charters has to offer, then submit your charter request online to get detailed information on reservations and pricing. Or you can call 305-515-4735 to speak directly to a consultant.
Questions Frequently Asked
Q. Do all yacht charters include catering services?
A. No. However, catering can be added to any charter for a small fee.
Q. Is alcoholic beverages allowed on boats/yachts?
A: Yes for everyone 18 and older.. Drinking is allowed on all yachts. You can use our service or you can bring your own drinks.
Q. Is there any water-toys that we can partake in?
A: Yes. On most of our boats we provide equipment for snorkeling and water boarding. Ask us about our scuba diving and Wave Runner packages.
Q. Can you explain half day and full day rentals?
A. A half day rental is for four hours and a full day is for eight hours. Any extra time needed will be charged hourly.
Q. Does your company offer a referral gift and how does it work?
A. This is a great program that we offer our customers. If someone you refer uses our charter and lets us know that you referred them, you get $150 cash or have it put toward your next rental with us.
Q. Can we become a part of the Luxury Yachts Cancun team to work as a broker?
A. Yes! Please contact us to let us know of your interest. We would be happy to send you more information.
Q. I am a boat owner. Can my boat be used for your charter business?
A. Yes! We are more than happy to discuss this with you. Please contact us for more information.

Feel Free to email us for our Cancun Yacht Charters Rates and Boat Prices.
Our boat/yacht charter packages are designed for your pleasure. If needed, we can design a custom package to fit your needs. Our package prices include fuel, the use of fishing rod(s), snorkeling gear, catering, first mate/cook and of course the Captain. Please contact us for full package estimates and specials. Weekly charters are also available.
Playa del Carmen Yacht Charters
Special Yacht Cancun Offers
Email us for specials on weekly mega yacht Rentals and Charters in Cancun that are also available.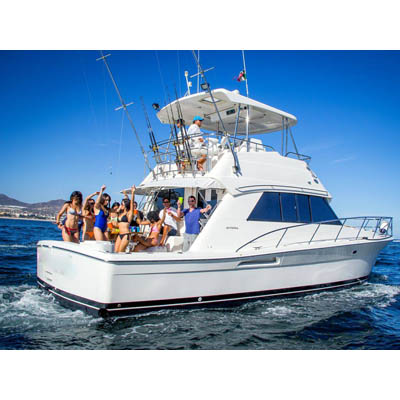 47' Riviera Yacht
This yacht is a perfect combination of style and luxury. It has a spacious saloon with all the required equipment and comfortable furniture inside. It has spacious cabinets and stylish fittings, tables and furniture in the kitchen, cabins and headroom. All these features make 47' Riviera a perfect yacht for various different purposes.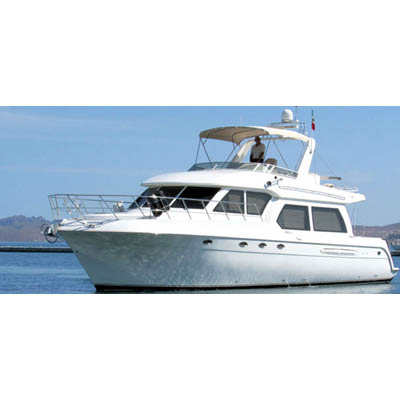 55' Navigator
This yacht is the definition of elegance and sophistication. It can seat up to 10 guests on deck and with top notch speakers, barbecue equipment and upscale finishes, it is perfect for all kinds of yacht events. With glossy cabinetry and countertops, contoured edges and leather sofas, it provides a completely luxurious feel. Comfortable master cabins and guest stateroom can accommodate 4-5 people.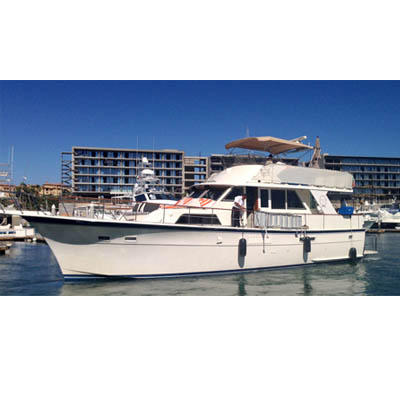 65' Classic Hatteras
The73 foot Blue Water yacht is very popular in the whole Mexico features. It has 3 staterooms and a very spacious design. This yacht is usually used accommodate 15-20 people for a cruise but can accommodate up to 40 people for short special events. It is perfect for all kinds of trips and events. Whether it's a family and friends cruise or small dance party or even a corporate dinner, this yacht can be used for a perfect time out there in the blue waters surrounding Cancun.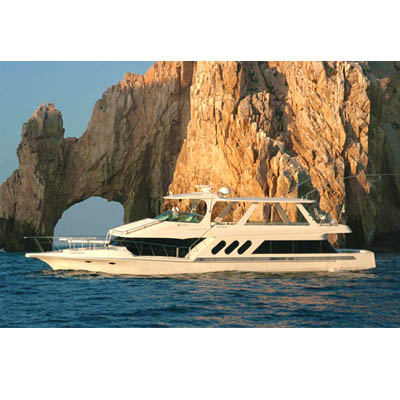 72' Blue Water Yacht
Classic Hatteras is a beautiful yacht with 3 stateroom layout, gallery and spacious cockpit. It has an sophisticated design with its main salon elegantly decorated with warm wood paneling, light carpeting dark colored counter tops and beige windows. This yacht offers performance without compromising even a little on comfort and luxury. All the rooms are well equipped and elegantly designed. It has beautiful shower, washrooms, and kitchen and also offers some optional features like TV, sound system and internet.