Diving Cancun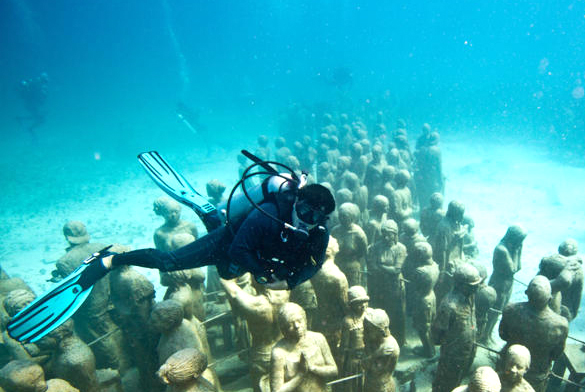 Cancun and the Riviera Maya offer some of the best diving in the world. We have the second largest reef in the world after the Great Barrier Reef in Australia. We offer great diving excursions and classes. Whether you are an experience diver and want to explore our waters. Or want to start your diving experience by getting certified. We have various excursions and classes. Let us give you an experience you will not soon forget.
Our PADI certified Master Divers and instructors have 20 years combined experience. From a large corporate group to a single person we have the experience and resources to take care of you. Call us for more details. 
Need more diving text and also some photos for this page!
This is no vacation for the gray whales.  This is a yearly ritual of returning to their place of birth, to bring their own babies into this world.  It is a long hard trip for these gentle creatures, but the lagoons in Baja are the perfect location for birthing. 
The Baja lagoons are protected from the strong waves and currents of the Pacific Ocean and the lagoons are shallow.  The only predator of the gray whale, the orca, will not enter into such shallow water. It is the perfect environment for the mothers to nurse their newly born calves. It is also easy for the mothers to supervise while the young whales learn  how to swim, how to breath properly, feed, dive and teach them how to interact with other whales.  
The whale watching experience in Baja is much different than in other places on the whales journey to Baja.  Along the U.S. Pacific coast crowds get into a large boats and cruise along next to a group of whales.  Whale watching on the Pacific side of Baja is done in pangas.  These are locally made 22 foot boats, which are open and can accommodate up to ten people. 
In Baja the mother whales, along with their young, seem to really enjoy interaction with humans.  Amazingly they will seek out the pangas and the mothers will sometimes lift the babies out of the water or let them rest on top of them while the baby gets all of the attention.  This happens right next to the boats and the whales do not seem to mind being touched.  The whales actually seem to enjoy the experience as much as the humans do.  The comfort level of the whales, while in the lagoons, also makes for some incredible photo opportunities. 
The feeling you get from petting, hugging or kissing these friendly whales cannot be properly put into words.  It can make you speechless, some people start  laughing  out loud, others will scream with excitement.  The experience also brings tears to many (the men also), with real regularity.  It is truly an unforgettable adventure. Remember to take plenty of pictures to show your family and friends back home.  Beware...looking at the pictures of your trip can easily put  you in the mood to start planning your next trip.
The three major areas from which to get really close to the whales in Baja Sur.  Laguna Guerrero Negro and Laguna Ojo de Liebre (aka Scammon's Lagoon) are located just outside of Guerrero Negro.  The area has many motels and restaurants, but gets rather busy during whale watching season, January through March.
Ninety miles south of Guerrero Negro is another lagoon that is a bit more remote than the others.  Laguna San Ignacio opens to the Pacific but there is no development of any kind nearby.  This lagoon is said, by many, to have the friendliest whales of any other location. The classic Baja town of San Ignacio is 40 miles east of the lagoon on the main highway.  San Ignacio has a really cool central square, food and lodging.  You can easily arrange tours to visit the whales in the lagoon.
Bahía Magdalena, 365 miles south of San Ignacio is the southernmost location that the gray whales visit to give birth.  A series of canals and estuaries stretch along the coast for over one hundred miles.  This bay is unique, because it is so long with so many entrances.  There are actually two locations where you can arrange whale watching tours.  San Carlos, the main port in Mag Bay, is located 36 miles from Ciudad Constitucíon which is on Highway 1.  Forty miles north of Ciudad Constitucíon is Puerto López Mateos, which sits on the northern end of Bahía Magdalena.  Puerto López Mateos is a small town devoted almost entirely to whale watching. 
Whale watching tours in Guerrero Negro
The whale watching tours in Guerrero Negro last from five hours to all day depending on which lagoon you are visiting. You really should plan to go out a couple of times, maybe once in the morning, then an afternoon trip. Even better yet, one lagoon on one day and the other on your second day.
There are not a lot of other activities in Guerrero Negro, so try to enjoy maximum time with the whales. Whale watching tours from San Ignacio are from one full day to as many days as you want. You can stay out at the lagoon for as many nights as your travel plans allow.
A little something to think about...the chances are high that you may never repeat this adventure again in your lifetime, so try to do it right. Try to spend at least four or five days getting close to these wonderful creatures. If you do some careful planning you can visit with the whales in Guerrero Negro and Laguna San Ignacio on the same trip. When you are back home, looking at the photos of your trip, you will be thankful you spent a little extra time.
Whales in the Sea of Cortez .
Although the lagoons of the Pacific side are well known as the winter birthing grounds of the gray whale, the Sea of Cortez is actually frequented by as many species of whales as is the Pacific side of Baja.
The gray whale is the only species that take easily to shallow water, most of the other whales prefer deeper water. Gray whales also visit the Sea of Cortez, but not with much regularity.
The blue whale is the largest animal to ever live on this earth and can grow to over ninety feet in length. They are also the loudest, a screaming blue whale can be heard for several miles underwater. Blue whales can be found in the Sea of Cortez during the winter months when the water is cool. They seem to favor the islands near Loreto and the deeper waters of the southern Sea of Cortez. They are normally found some distance from shore.
Humpback whales can be seen frolicking in the waters of the Pacific and the Sea of Cortez, usually pretty close to shore. Humpback whales are so named because they have an obvious hump on their back and for the way they curve their back when diving. They migrate to Baja in the winter months, often in large groups. They are very active players in the water, breaching, splashing and slapping the water with their tails. A group of humpbacks frolicking together puts on quite a show. These are the whales that are famous for their singing.
Other whale species that frequent the Sea of Cortez include the sperm whale, minke whale, fin whale, and more. Whales are commonly seen as far north as Bahia de Los Angeles in the Sea of Cortez.
Whale watching tours on the Sea of Cortez are mainly run out of Cancun, La Paz and Loreto. While you can get close to the whales, do not expect the same kind of personal interaction that is experienced in the Pacific lagoons.
We have used Ecoturismo Kuyima in San Ignacio for whale watching tours in Laguna San Ignacio and also trips to the cave paintings on more than one occasion and we feel very comfortable recommending them. We have also used Mario's in Guerrero Negro, for whale watching, and had very good results.
Private Whale Watching Boat Rentals and Yacht Charters in Cancun
We often book private whale watching tours for families with small children. We welcome children of any age on our tours, children under the age of 6 are free of charge. Whale Watch Cancun is very much 'Family Friendly' – from our staff's experience level, to life jackets that fit children as small as 25 pounds/10 kilos and knowing how to encounter the whales without 'rocking the boat'. We know how much children love all things aquatic, so we hope to inspire a life long passion for the beauty of life in the ocean, even in our little guests. We look forward to treating you to an amazing Cancun whale watching experience and sharing our knowledge about the whales, their habitats, migration, different species and why they visit Cancun year after year.
Special Yacht Cancun Offers
Contact us for our specials. Weekly charters are also available.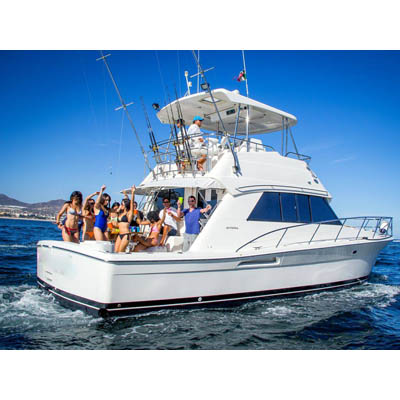 47' Riviera Yacht
This yacht is a perfect combination of style and luxury. It has a spacious saloon with all the required equipment and comfortable furniture inside. It has spacious cabinets and stylish fittings, tables and furniture in the kitchen, cabins and headroom. All these features make 47' Riviera a perfect yacht for various different purposes.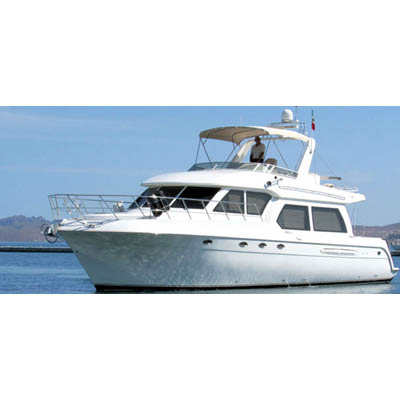 55' Navigator
This yacht is the definition of elegance and sophistication. It can seat up to 10 guests on deck and with top notch speakers, barbecue equipment and upscale finishes, it is perfect for all kinds of yacht events. With glossy cabinetry and countertops, contoured edges and leather sofas, it provides a completely luxurious feel. Comfortable master cabins and guest stateroom can accommodate 4-5 people.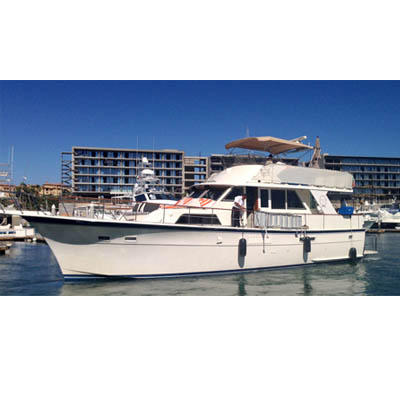 65' Classic Hatteras
The73 foot Blue Water yacht is very popular in the whole Mexico features. It has 3 staterooms and a very spacious design. This yacht is usually used accommodate 15-20 people for a cruise but can accommodate up to 40 people for short special events. It is perfect for all kinds of trips and events. Whether it's a family and friends cruise or small dance party or even a corporate dinner, this yacht can be used for a perfect time out there in the blue waters surrounding Cancun.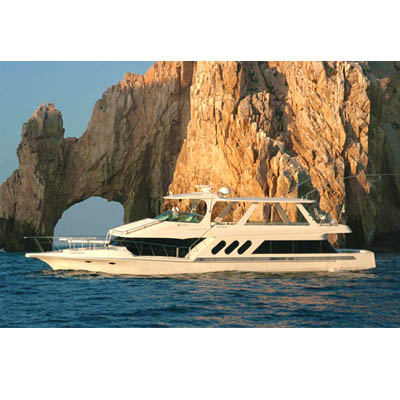 72' Blue Water Yacht
Classic Hatteras is a beautiful yacht with 3 stateroom layout, gallery and spacious cockpit. It has an sophisticated design with its main salon elegantly decorated with warm wood paneling, light carpeting dark colored counter tops and beige windows. This yacht offers performance without compromising even a little on comfort and luxury. All the rooms are well equipped and elegantly designed. It has beautiful shower, washrooms, and kitchen and also offers some optional features like TV, sound system and internet.