Cancun fishing.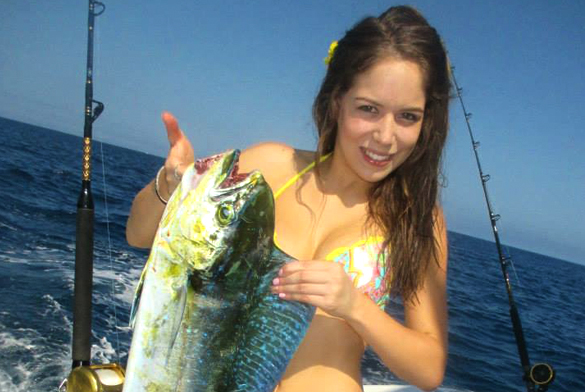 If you have ever wondered where one of the best, if not the best locations for sport fishing can be found, then look no further than the sunny shores of Cancun, Mexico. Unlike many other sport fishing destinations, Cancun is known for its vast array of marine life, including Yellowfin Tuna, Roosterfish and Yellowtail just to name a few. Areas around Cancun are called 'sailfishing paradise' where it is normal to have 20-fish days.
Sport Fishing is one of the most enjoyable and relaxing adventures to find while in Cancun, Mexico.You can rent fishing boats that can accommodate a small group to a large group of you and your friends and family. Hundreds of tourists and vacationers find their way to Cancun to enjoy sport fishing. This is an experience for the whole family.
Whether you are a beginner or an expert everyone can learn and have fun on the ocean waters. Sport fishing is usually done with hook, line, rod and reel rather than nets or other aids. Some fishing techniques include hand gathering, spearfishing, netting, angling and trapping. You can also grab a fishing tour and enjoy fly fishing, deep sea fishing and light tackle fishing.
If walking around the shores of Cancun is not for you, then simply don't walk. Kick your feet up on one of their many chartered power and fishing boats or luxury yachts and let the Captain show you everything that waters of Cancun has to offer. With their advanced equipment you can see all of the beautiful fish in a safe environment and still have your catch weighed and measured by the professionals. After you pose a picture with your trophy you can release it in order to protect recreational fisheries.

With so many activities to choose from, why look anywhere besides Cancun, Mexico for your fun in the sun? Whether you are celebrating a birthday, planning a fish trip, or taking a vacation on the open sea Cancun is the place to be.
Fishing Isla Mujeres
Fishing in Isla Mujeres (Island of Women) is one of the most exciting blue water adventures. Isla Mujeres is the home to world class fishing and one of the most exciting eco-tours in the world. It is only 30 minutes away from Cancun on a boat, so you will still see an abundance in ocean life. You will be sure to find your prize catch here! Some of the wildlife that you might catch include white & blue marlin, dorado, wahoo, black fin tuna, king fish, bonitos, grouper, snapper, barracuda, lobster, octopus, and more. While fishing it is normal to use circle hooks to do the least amount of damage possible. We specialize in Blue Water Fly Fishing. Supply tackle available upon request. Another great activity is swimming with the whale sharks.It is very common to practice catch and release to reserve our waters. Once you have made your catch we will clean it for you and photograph it for all of your friends and family to see.
Whether you are enjoying the activities available or relaxing on a boat the Isla Mujeres is the perfect place for a short vacation or a new place to call home. During the daytime you can spend your time on the white beach or snorkeling in the blue waters. In the evening, you can dine on amazing meals of many varieties. After a romantic meal or a family dinner take a stroll along the beach under the moonlight while breathing in the ocean air. You can build a trip to Isla Mujeres however you want! We are only here to help and enhance your experience! Let us help you create a adventure you will never forget!
The Crew

We have English and Spanish speaking licensed crew members to assist you with all of your needs. The captains are licensed and certified with rescue and first aid. They are also familiar with the weather and the waters to help you have a fun, safe and comfortable experience. There are plenty of activities to take part in and enjoy your vacation to the fullest with your friends and family. Some of the landmarks include swim with the dolphins, snorkel at the Garrafon National Park, stroll around the island and you can partake in some shopping at the many stores in the island's downtown area. There are also many restaurants to choose from to dine out while on the island. You will be sure to find something delicious to eat, even for the pickiest eater.
The Boats
There are a variety of boats to choose from to sail on the crystal blue waters in Isla Mujeres. Our boats have successfully completed all the Coast Guard requirements for safety, communications and navigation to provide you a safe and secure journey. They are also equipped with the best GPS systems and Radar. Our boats are perfect for deep sea fishing, in-shore fishing, snorkeling and others. This means more quality fishing time for you! Wet suits are available upon request.
You can also rent one of our beautiful yachts for special events. If you have a wedding, evening party, day event or another event that you would like to spend on a luxurious boat you can do it in Cancun or Isla Mujeres. We will be sure to enhance your experience with the many activities and array of menu items and music available. We offer both private and group rates with an all inclusive package available, making sure your excursion is a memorable one. Book your next trip with us, you will not regret it!
Special Yacht Cancun Offers
Contact us for our specials. Weekly charters are also available.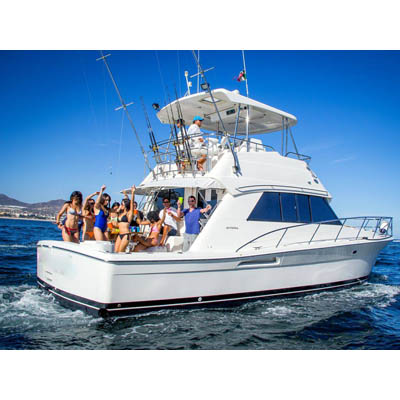 47' Riviera Yacht
This yacht is a perfect combination of style and luxury. It has a spacious saloon with all the required equipment and comfortable furniture inside. It has spacious cabinets and stylish fittings, tables and furniture in the kitchen, cabins and headroom. All these features make 47' Riviera a perfect yacht for various different purposes.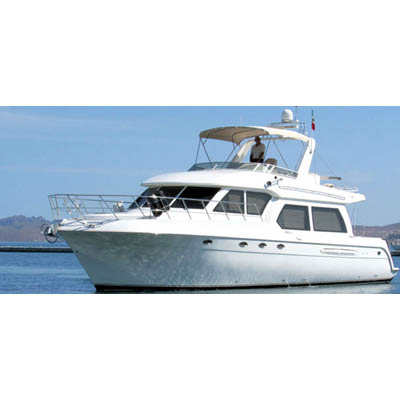 55' Navigator
This yacht is the definition of elegance and sophistication. It can seat up to 10 guests on deck and with top notch speakers, barbecue equipment and upscale finishes, it is perfect for all kinds of yacht events. With glossy cabinetry and countertops, contoured edges and leather sofas, it provides a completely luxurious feel. Comfortable master cabins and guest stateroom can accommodate 4-5 people.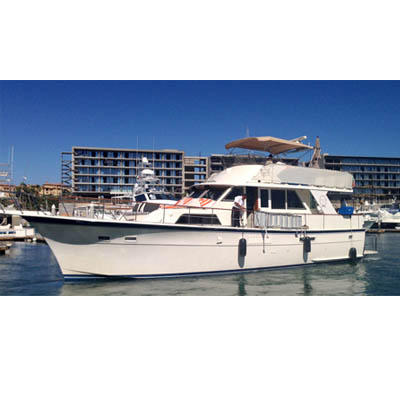 65' Classic Hatteras
The73 foot Blue Water yacht is very popular in the whole Mexico features. It has 3 staterooms and a very spacious design. This yacht is usually used accommodate 15-20 people for a cruise but can accommodate up to 40 people for short special events. It is perfect for all kinds of trips and events. Whether it's a family and friends cruise or small dance party or even a corporate dinner, this yacht can be used for a perfect time out there in the blue waters surrounding Cancun.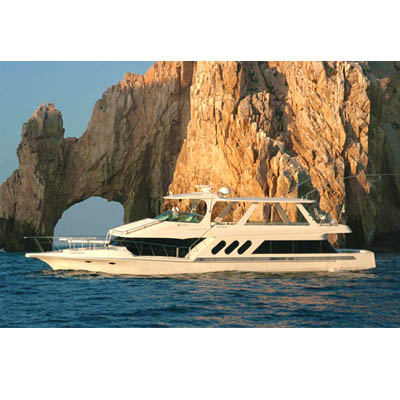 72' Blue Water Yacht
Classic Hatteras is a beautiful yacht with 3 stateroom layout, gallery and spacious cockpit. It has an sophisticated design with its main salon elegantly decorated with warm wood paneling, light carpeting dark colored counter tops and beige windows. This yacht offers performance without compromising even a little on comfort and luxury. All the rooms are well equipped and elegantly designed. It has beautiful shower, washrooms, and kitchen and also offers some optional features like TV, sound system and internet.